AAL Life Members Mural - 'Balit Nanggt-bul'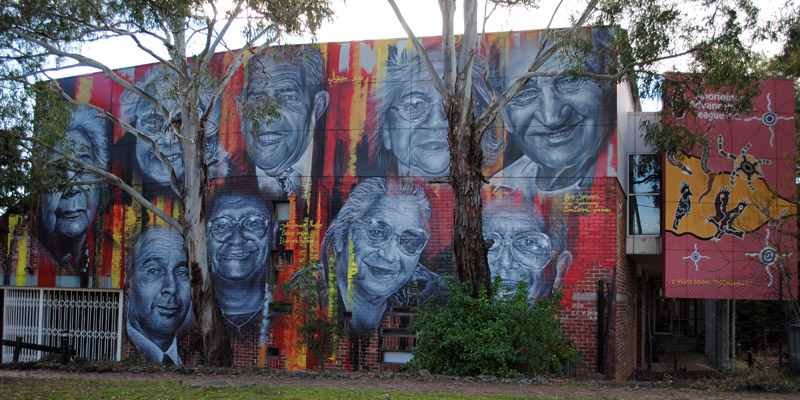 Margaret Tucker MBE
Margaret Tucker (1904-1996), was one of Australia's earliest and most notable female Aboriginal activists. She was born on the 18th March 1904 at Warangesda Mission in New South Wales. Her parents, William Clements, a Wiradjuri man, and Teresa (née Middleton), a Yorta Yorta woman, had four daughters. Margaret was the eldest. She spent most of her childhood at the Cummeragunja and Moonacullah Missions. She was the first woman to be appointed to the Victorian Aborigines Welfare Board. In 1968 she was made a Member of the Order of the British Empire (Civil) for services to the Victorian Aboriginal community. In 1973, she played a vital role in establishing the Victorian Aboriginal Health Service. In 1977 she published her autobiography "If Everyone Cared", an important account of the early policies of child removal and in 2001, she was inducted to the Victorian Honour Roll of Women, among the first to receive the honour.
Geraldine Briggs OAM
Geraldine Briggs was an inspirational leader and role model, particularly for Aboriginal women across Victoria. She was born on the 21st of January 1910, on Warangesda Aboriginal Mission in New South Wales. Her parents, William Clements, a Wiradjuri man, and Theresa Clements (née Middleton), a Yorta Yorta woman, had four daughters.
She grew up on the Moonacullah Aboriginal Reserve but later moved to Cummeragunja Mission with her new husband Selwyn. The poor management and harsh conditions of the Cummeragunja Aboriginal Reserve, under the control of the NSW Aborigines Protection Board, caused families to revolt. The Briggs family was involved in the 'Cummeragunja Walk Off' in 1939. In 1970 she was the Victorian State Secretary of FCAATSI. In 1972, she became the first President of the National Aboriginal and Islander Women's Council. In 1991, she received the Order of Australia.In 2001, she was inducted into the Victorian Honour Role of Women.
Merle Robertha Jackomos OAM
Merle Jackomos (nee Morgan) was born on Cummeragunja on the banks of the Murray River on the 13th of June 1929. The surviving sibling of 7 children to Michael Stafford Morgan (Yorta Yorta) and Maud Miriam Morgan (nee Ross) (Gunditjmara), she is the only surviving sibling. Her mother died when she was 7 years old and she continued to live with her father, grandmother, aunties and siblings on Cummeragunja. In 1972 she was elected to the Victorian Aboriginal Affairs Advisory Council. In 1977, Merle represented Australia with other Aboriginal people, at the FESTAC festival in Nigeria. From 1979-1985 she was appointed a director of Aboriginal Hostels Ltd. In 1981 she was elected to the National Aboriginal Conference (NAC), a position she held until its abolition in 1985. In 1987 she was awarded the Medal of the Order of Australia on 26 January for service to Aboriginal welfare.
Alick Jackomos OAM
Alick Jackomos was born in North Carlton in 1924, the eldest son of Greek migrant parents from the island of Castellorizo, and grew up in Collingwood during the Great Depression. He was an adventurous boy who became a travelling tent wrestler with Jimmy Sharman, whose boxing troupe was known Australia-wide. Their shows would rely heavily on Aboriginal boxers and audiences and this is where Alick actively crossed cultural boundaries to associate with Aboriginal people when most of the population chose to shun them. From an early age, he would travel to Lake Tyers where he became friends with many of the families residing there, and maintained that friendship throughout his life. He was a member of the AIF 2/14th battalion and saw active duty in New Guinea, Malaya and Borneo. Alick received the medal of the Order of Australia, for his services to the Aboriginal community. Richard Broome and Corinne Manning wrote a book about his life 'A Man of all Tribes: The life of Alick Jackomos' which documented his life experiences.
Elizabeth Morgan
Elizabeth Maud Morgan (Hoffmann), also known to all as Aunty Liz, was born at Cummeragunja on 10th March 1927. She was the second child of Michael Stafford Morgan and Maud Miriam Morgan (nee Ross). In 1973-75 she was a Board Member and actor in the Nindethana Theatre. In 1973-1983 Chairperson, then Director of the AAL. Aunty Liz was one of the longest-serving Directors of the AAL, overseeing the AAL building appeal, resulting in today's AAL premises at Thornbury. She was also the inaugural Chairperson of the Victorian Aboriginal Legal Service, Co-founder of the Victorian Aboriginal Health Service and Co-founder and Inaugural Chairperson of the Aboriginal Housing Cooperative and Chair of the first meeting that created the Victorian Aboriginal Housing Board. She was Co-founder and Inaugural Chairperson of the Victorian Child Care Agency and Co-founder of the first Aboriginal Women's Refuge, Elizabeth Morgan House. In 2001 she was one of 250 women on the Victorian Women's Honour Roll in 2001 and in 2006, the Inaugural recipient of the NAIDOC Lifetime Achiever Award.
Eleanor Harding
Eleanor was born on the 24th of June 1934 on Erub Island in the Torres Strait. Eleanor's father was killed when she was only 8 years old. Then not long after this she lost her mother so she moved to the mainland with her grandmother. Then in 1956, she moved to Melbourne in hopes that she might give her family a better life. She settled in Fitzroy where she performed with a group known as the Fitzroy Dancing Girls. During the 1960's she was involved in a national campaign to secure equal rights for Aboriginal people, as a member of the Aborigines Advancement League and the Victorian branch of the Federal Council for the Advancement of Aborigines and Torres Strait Islanders (FCAATSI). She sat on the board of several key Aboriginal organisations including the Victorian Aboriginal Legal Service, the Victorian Aboriginal Health Service and the Aborigines Advancement League. In 1978, she joined the Victorian Department of Community Services where she worked primarily with victims of domestic violence. She also helped to establish the Margaret Tucker Hostel in 1983 where she worked voluntarily until funding was secured. In 1992, she helped establish the Victorian Wongai Torres Strait Islander Corporation. In 2012, Eleanor was inducted into the Victorian Aboriginal Honour Roll by the State of Victoria.
Clara Luttrell-Garisou
Clara Luttrell-Garisou, better known as Aunty Claire, was born in Echuca and was the second oldest of Thomas and Mary James 13 children. Clara spent her first few years at Cummeragunja Reserve before the family moved to Mooroopna and later Shepparton.
Clara's parents instilled a strong work ethic in their children and because of this Clara became a skilled cyclist who competed in local and regional competitions. In 1973 Clara became the first nurse at the Victorian Aboriginal Health Service (VAHS). She then joined with Aunty Edna Brown and established the Aboriginal Funeral Service. They were concerned that Aboriginal people could not afford proper funerals and burials so raised funds to establish the service. In the mid-1970s she became the manageress of the Lady Gladys Nicholls Hostel. Clara also helped establish the Elizabeth Hoffman (now Morgan) House. She chaired Victoria's NAIDOC Committee for 25 years. Clara's crowning achievement was organising the annual Miss NAIDOC contest and the NAIDOC Week Ball.
John Stewart Murray OAM
John Stewart Murray, known as Stewart Murray was born on 26 October 1922 at Lake Boga, Victoria. He was the son of Baraparapa/Yorta Yorta/Wiradjuri man John Murray and his Wamba Wamba/Dhudhuroa wife Hilda Zenobia, née Stewart, both born in New South Wales. Stewart enlisted in the Australian Imperial Force on 17 December 1941 in Melbourne. He served with the 2/12th Battalion in Papua (December 1942-March 1943 and August-December 1943), New Guinea (December 1943May 1944) and Borneo (July-November 1945), suffering several bouts of malaria. In November 1945 he was promoted to Lance Corporal. Returning to Australia, he was discharged from the AIF in March 1946. He was Chairperson of the Victorian Aboriginal Lands Council, In 1974 secretary of the Victorian All Stars Aboriginal Football Team, Regional Director of Aboriginal Hostels, Victoria, Director, Dandenong & District Aboriginal Co-operative, Member of the inaugural Police/Aboriginal Community Liaison Committee, Steering Committee member of the Aboriginal Housing Committee which became the Aboriginal Housing Board of Victoria, Justice of the Peace in 1982, In 1984 he was awarded a Medal of the Order of Australia and NAIDOC Victorian of the Year in 1987.
Emmanuel Cooper OAM
Emmanuel Cooper was a Yorta Yorta man, born at Cummeragunja Reserve, New South Wales, in 1914 and lived there as a youngster. His father moved the family across the Murray River to Victoria after the police tried to take his sister away to Cootamundra Girls Home. The fear of being taken away stayed with him and later in life he frequently moved his own family around to prevent his children from being taken off him.Emmanuel Cooper was one of the fortunate unsung heroes to be recognised. His tireless work with families and within the community for him was just a part of life he lived of sharing and caring. He attended meetings in Victoria and interstate in Canberra many times. Sometimes he would walk or hitchhike to the meetings because in those days there were no travel allowance or accommodation expenses. Emmanuel was on the Board of Directors with the Aborigines Advancement League, the Victorian Aboriginal Legal Service, Rumbalara Aboriginal Co-op, the Aboriginal Housing Board, to name a few. Emmanuel was so proud of being a recipient Medal Of the Order of Australia in 1998 for recognition of his work within his community but more so he was proud to be a life member of the Aborigines Advancement League.