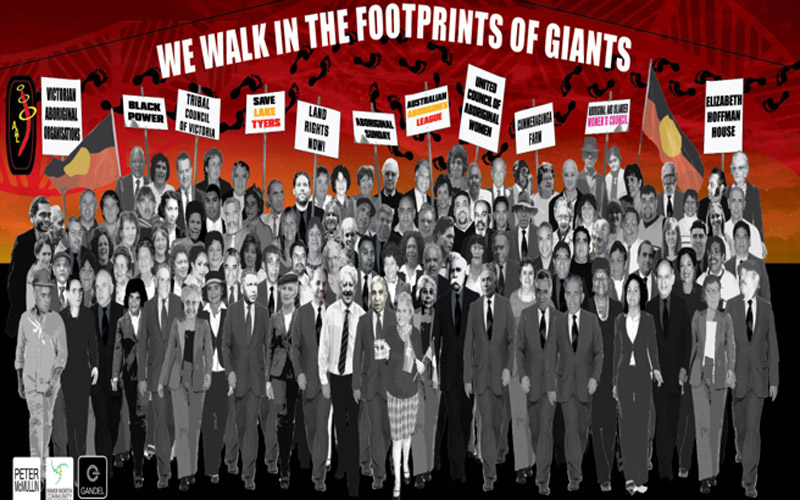 This mural was funded by Gandel Philanthrop, Peter McMullin and the Inner Northern Community Foundation.
We Walk in the Footprints of Giants mural depicts all the Board members of the AAL for 60 years from 1957-2017 with the ones at the back walking in the footprints of the giants in the front. For over six decades these leaders made a huge contribution to the AAL by lobbying, protesting and marching together for the common cause of gaining rights for Aboriginal people, not only in Victoria, but throughout Australia.
The contribution that each person featured on this mural made to ensure that the AAL continued to exist so that it could provide services to the most vulnerable members of our community will only be measured by time.
These giants are marching to because there have been many marches for justice and land rights (including the Save Lake Tyers campaign) since 1957 when the AAL was established.
Front Row  – William Onus, Dora Green, Les Green, Joyce Johnson, Selwyn Briggs, Aunty Gerry Briggs, Evelyn Rose, Jack Patten, Doris Blackburn, Stan Davey, Gordon Bryant, Pastor Doug Nicholls, Lady Gladys Nicholls, Aunty Margaret Tucker, William Cooper, Shadrach James, Alf Bamblett, Emmanuel Cooper, Eleanor Harding, Merle Jackomos, Alick Jackomos, Maude Moyle, Bruce McGuinness.
2nd Row  – Maude Pepper, Herb Patten, Lorraine Patten, Aunty Edna Brown, Alma Thorpe, Margaret Wirrupunda, Hyllus Maris, Naomi Meyers, Leah Andrews, William Onus, Lois Peeler, Victor Lovett, Darren Lovett, Aunty Alice, Pam Pedersen, Stewart Murray, Nora Murray, Lillian Tamiru, Sid King, Clare Luttrell-Gariseau, Harold Bux, Deidre King, Peter Rotumah, Phil Cooper, Des Morgan, Aunty Melva Johnson, Aunty Liz Hoffmann, Michael Jackomos, Esmai Manahan, Jock Austin, Graham Austin.
3rd Row  – Ron Edwards, Con Edwards, Terry Garwood, Marjorie Thorpe, Georgina Williams, Esme Bamblett, Merle Bamblett, Geraldine Atkinson, Leslie Bamblett, Gary Bamblett, Rick Hendersen, Tony Lovett, Lynch Cooper, Peter Hood, Terry Hood, John Day, Laurie Moffatt, Sally Russell, Penny Tripcony, Gary McGuinness, Frank Guivara, Lowanna Austin, Troy Austin, Pam Aplin, Glen Peters.
4th Row  – Gavin Brown, Alan Brown, Sonny Booth, Hannah Lovett, Carmel Barry, Ian Barry, Harry Penrith, Elsie Bailey.
Back Row  – Bobby Nicholls, Stella Nicholls, Grant Hansen, Kelly Faldon, Ron James, Leigh Saunders, Joan Vickery, Lisa Bellear, Faye Carter, Graham Atkinson, Reg Blow, Walda Blow, Aunty Francis Gallagher, Reginald Saunders, Margaret Stewart, Rodney Monohan, Jack Connolly, Ali Connolly, Marion Hansen, Damien Bell, Ted Foster, Cherie Waight, Joe McGuinness, Martha Nevin.